plant equipment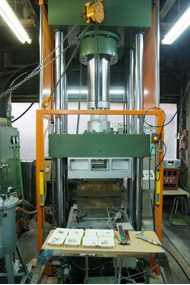 With the range of equipment in our plant, we can meet various customers' needs. In particular, we have advantageous techniques in compression molding and Transfer molding.
And we have the flexibility to provide products ranging from small lots to mass production.
In addition, we handle encapsulation of large motors. Please ask us for any kind of thermosets.
| | |
| --- | --- |
| 300T double-acting compression press | x2 |
| 200T double-acting compression press | x1 |
| 100T double-acting compression press | x4 |
| 70T double-acting compression press | x3 |
| 50T double-acting compression press | x2 |
| | |
| --- | --- |
| 150T two-stage transfer press | x1 |
| 100T two-stage transfer press | x1 |
| 100T transfer press | x4 |
| 37T transfer press | x1 |
| 30T tablet machine | x1 |
| 10T tablet machine | x1 |
| High-frequency pre-heater | x7 |
| | |
| --- | --- |
| Normal lathe | x1 |
| Upright milling machine | x1 |
| Grinder | x1 |
| Clamp press | x1 |
| Automatic tapping machine | x1 |
| Drill press | x11 |
| Barrel | x1 |
| Dryer | x2 |
| Compressor | x2 |
| Refrigerated storage unit | x1 |
| Incubator 432 | x1 |