phenol resin
Characteristics of phenol resin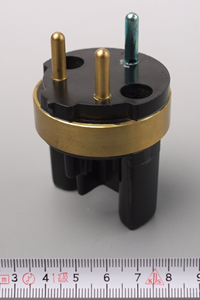 Phenol resin is a type of thermoset plastic that has been in use for a long time, following celluloid.
Generally speaking, phenol resin has great mechanical strength, electrical properties and excellent resistance against flame, solvents, water and acids. Of special note is its mechanical strength retention at times of high temperature. In addition to flame resistance, phenol resin features low smoke generation, and low smoke toxicity.
Phenol resin has a well-balanced composition and is relatively cheap, so it is widely used as a thermoset molding material.
The most common applications are industrial parts requiring electrical insulation, mechanical strength, and heat resistance. Phenol resin is also used for mechanical parts requiring chemical resistance and solvent resistance.
Applications of phenol resin<
Heavy electrical equipment parts (breakers, meter covers, and magnetic switches)
Incoming panel switch of electric appliances, electrical car parts, and communication equipment parts
Flame resistant electrical machinery parts, heat resistant electric appliance parts
General electrical parts (wiring accessories, terminals, etc.)
Kitchen appliance parts (cooking device handles, knobs, etc.)
Thermal appliances (toasters, ovens, hot plates, etc.)
Groceries, high-strength mechanical parts, vehicle parts
Electromechanical components, textile machine parts, ship parts, sealed equipment parts
Our Phenol resin products
≫Click here to see other products.
We have met the following customers' needs.
[Customer request]
We want to find a new manufacturer of phenol resin molds because our contract manufacturer discontinued business.

The number of thermoset molding manufacturers is decreasing because of low profit margins for the labor and costs. In particular, there are few manufacturers that have compression molding machines and transfer molding machines.

If your contract manufacturer discontinues business or shuts down a production line, please contact us.