unsaturated polyester resin (SMC,BMC)
Characteristics of unsaturated polyester resin (SMC,BMC)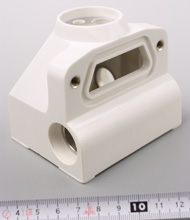 Unsaturated polyester resin features high
production efficiency due to the fact that it cures quickly and has excellent coloring properties. It has outstanding strength, chemical resistance, heat resistance, and electrical properties. Unsaturated polyester resin reinforced with glass fiber is a typical example of Fiber Reinforced Plastics (FRP).
It has high mechanical strength and is widely used for plastic products requiring high strength for use in applications such as construction materials, bathtubs, boats, ship parts, and helmets.
Applications of unsaturated polyester resin (SMC,BMC)
Housing equipment(bathtubs, water-proof pans, wall panels, ceiling panels, decorated panels, water tank board, and water-purifier tanks),
Car and rail vehicle parts(air spoilers, front panels, engine covers, ceiling panels, window frame covers, tables, encapsulation of generators, lamp reflectors, encapsulation of flat motors, and hood bulges),
Electric parts(troughs, dish antennas, breakers, branch boxes, telephone boxes, and fluorescent light covers),
Precision parts<(liquid-crystal projectors, liquid-crystal projector optical units, DVD trays, and DVD honeycomb bases)
Encapsulated parts(washing machine motors and rotors, air conditioner motors, fan motors, shaded-pole motors, refrigerator motors, and underwater pumps)
Heavy electrical equipment parts(breakers, low-pressure spacers, insulation frames, and insulators)
Our Polyester resin products
≫Click here to see other products.
We have met the following customers' needs.
[Customer request]
We want a stack of a number of metal sheets separated by a uniform interval formed as an integral body with unsaturated polyester resin (insert molding).

In addition to standard molding processes, we are happy to meet customers' needs for more complex molding processes when they arise.

Since our motto is "Small quantity, many types of products", we would like to satisfy your requests for fabrication of molded products that other companies would be reluctant to take on.

We provide products that make maximum use of the characteristics of the resins from which they are molded.
[Customer request]
We would like to mold a casing for a separator unit that is to be placed in a well.

Because the casing was of a large dimension, we used compression molding (direct pressure molding) and fabricated the casing according to the customer's specifications.

Few manufacturers today deal with compression molding, and we are happy to be able to meet customers' needs in this field.
[Customer request]
We are looking for a manufacturer who can encapsulate a coil with BMC.

At present the number of manufacturers capable of carrying out encapsulation with BMC (an unsaturated polyester resin) is extremely small. We do have this capability.

Not only BMC encapsulation, but handling other types of molding processes and tasks that other companies find too difficult or are reluctant to accept are strength of ours, so please feel free to consult us on any type of molding project that you like.