Diallyl phthalate resin
Characteristics of diallyl phthalate resin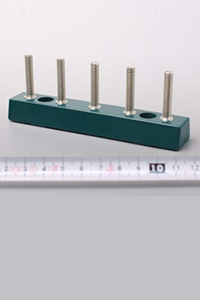 Most notable of diallyl phthalate resin are its electrical properties and dimensional stability. Because it maintains superior electrical insulation and dimensional stability properties under high temperatures and high humidity, with little deterioration, it is in general demand as a molding material for applications in electronics, communications, and aeronautics.
Also, because it is capable of being molded under low pressure, it is optimal for application in various types of encapsulation of electronic components and the like, and in recent years demand has been expanding for application in mobile communications devices, such as mobile phones and laptop computers.
Applications for diallyl phthalate resin
witches
connectors
coil bobbins
IFT bases
terminal boards
laminating sheets
electrical and electronic parts
automobile parts
aeronautic parts
parts for equipment used on seafaring vessels
decorated boards
Our Jiar resin products
≫Click here to see other products.
We have met the following customers' needs.
[Customer request]
We would like to fabricate molded products for application in communications devices using a molding material that has high electrolytic corrosion resistance and is very strong.

Based on the specifics of the customer' s request, we determined that diallyl phthalate resin would be the optimal material, and proposed its use. The customer had from the start wanted to use diallyl phthalate resin, but had been unable to find a manufacturer that had the capability to work with it, so they were very happy to learn that we could.
We have a fairly large number of customers who searched high and wide for a suitable manufacturer before finding us.