Our technical strength specialized in thermoset plastics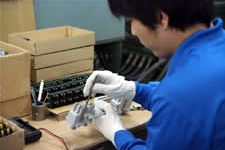 Plastics are categorized into 2 types: "thermoset plastics", which, upon the application of heat and pressure during molding, undergo a chemical reaction to start the hardening; and "thermoplastics", which are liquefied upon the application of heat and re-solidify when cooled.
Characteristics of thermosets Because of the high degree of durability, chemical resistance, mechanical strength and dimensional accuracy, thermosets can be used in unique applications.
As a substitute material for metals, and ceramics, thermosets are widely used in various ways; ranging from plastic household items such as plastic knobs, plastic handles of frying pans, plastic ashtrays etc, to many types of industrial applications such as heavy electrical equipment parts, electrical parts (breakers, meter covers, magnetic switches, etc.) boats and motors parts.
Since the establishment of our company, we have been specializing in thermoset molding for over 50 years.
Based on our technical ability to provide a variety of products, we have met diversified customer requests such as small lot products, complicated products and high accuracy products.
We are also providing integrated molded products with metals, rubber and other types of materials, bringing innovative products with high added value to market, which generally require assembly as integral molded products; whereby, we are able to lower costs for our customers.
Our "Three special molding technologies + @" responding to customers' requests
When we fabricate products with thermosets, we are able to rapidly and accurately meet customers' needs by our "three special molding technologies + @"
Our three special technologies are
Among the three, we are particularly confident in our compression molding and transfer molding capabilities, and we have customers who, previously being unable to obtain satisfactory products from other manufacturers, are extremely pleased with our work.
After examining the details of customers' needs and budget, we propose the optimal plan for the molded product. And even in the case of the need for a newly developed product, and orders for small lots, we will make every effort to fullfill the needs. Please feel free to contact us.
In addition to these three technologies, our strongest selling point is the "technological plus" we bring to each project.
With over fifty years of experience in this industry, we have accumulated considerable know-how in thermosets, and with the high level of technical skill of our molding engineers, we continue to offer customers high-quality, and highly accurate molded products.
The fact that we are able to meet customers' needs where other companies could not, and to provide products that maintain dimensional stability is due precisely to our wealth of
know-how and technical skill combined with many years of experience.
For example, the encapsulation of coils or motors with epoxy resin, a specialty of ours, molding of products on which human life can depend, such as medical equipment, submersible motors and other boat and ship parts, or the molding of fine dimension precision parts demanded for measuring instruments and the like, "parts too small to be molded by human skill alone", are areas in which our strengths come through.